What We Offer: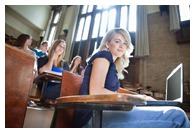 Through our foundational product, the Ethical Lens Inventory™, students gain an awareness of their ethical preferences. EthicsGame experiential case studies are designed to meet the student where they are and help them to develop an understanding of all ethical approaches.
Our Ethics Exercises™ introduce and reinforce both compliance and ethical concepts through rapid-fire, multiple choice questions.
The Hot Topics Simulations™ are short and engaging virtual simulations that challenge students to make decisions from multiple ethical perspectives.
Our Core Values™ product is a team based, writing intensive simulation series used in Business Courses such as Business Law, Strategic Management and Business Ethics. Students are given executive positions within a company and work on-line together and separately facing typical workplace ethical challenges.
All of our offerings and pricing are customized to fit into any existing program or curriculum.
Find out How it Works!