Explore the Values that Connect
The Values-in-Sync card deck and User's Guide are a new, exciting tool for trainers and faculty to coach individuals and help teams discover the values that define them and work together to create an effective and vibrant culture!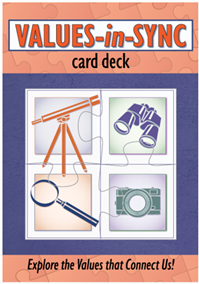 Understand the source of the Ethical Self.
Identify evolving values and behaviors.
Explore devolving values and behaviors.
Imagine solutions to difficult problems.
Practice communicating for change.
Build the capacity for effective and ethical action.
The Values-in-Sync card deck includes: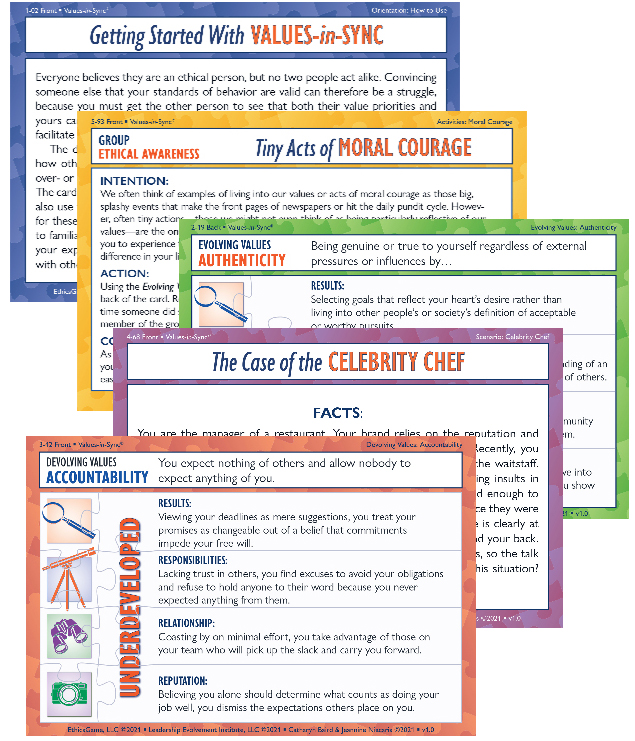 24 value cards exploring various interpretations of common ethical values like respect, determination, safety, and passion.
24 cards showing how those values can devolve into over- or underdeveloped forms.
24 challenging, open-ended scenarios to put values to the test, each with two optional "plot twists" to heighten the controversy.
10 double-sided activity cards to structure your exploration and inspire new paths of learning.
20 orientation, information, and index cards to guide you through the deck.
The Values-in-Sync User's Guide provides additional training resources to help you work with individuals or teams to bring their values to life!